Dir. Susan Johnson. Starring Lana Condor, Noah Centineo, Anna Cathcart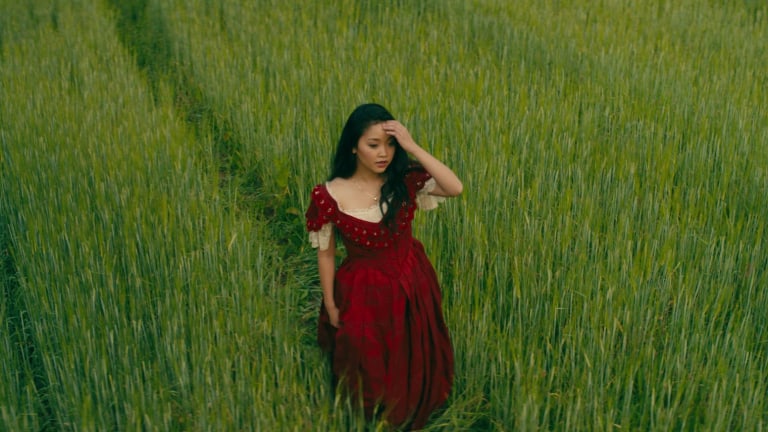 Image links back here
In all the articles weeping and wailing about how romantic comedies are dead, there are frequent culprits like "the demise of the mid-budget movie" or "the target demographics like superheroes" or even just "Katherine Heigl" are always at the forefront. But isn't the problem that Tom Hanks and Meg Ryan (to say nothing of Cary Grant or Barbara Stanwyck) aren't doing them anymore? You don't necessarily need a big name in a romantic comedy, but you must watch two people who can charm the socks off of you. This is Billy Crystal in When Harry Met Sally…, who is not tall or handsome but who is a magnetic screen presence. This is Tom Hanks, who became the biggest star in America in the 1990s just by making audiences terrified that something bad would happen to him. This is Julia Roberts, who really does have the smile and charisma that could have made her a star in any era of moviemaking. This is Meg Ryan, who was intensely relatable before "relatable" came to mean "in desperate need of therapy and punishing everyone around me because I refuse to get help."
Set It Up and To All the Boys I've Loved Before are buzzy movies because both have tapped into the old ichor of romantic comedies; they are deeply enjoyable while they happen and they do not pressure me to be overcome by them. Set It Up is one of the most fun movies I've watched this year, and I don't feel any need to call it one of the best; To All the Boys I've Loved Before feels incredibly, improbably fresh even as it romps around the territory we've seen trodden so often before. What they have in common above all else is acting charm. Zoey Deutch is Lea Thompson's daughter but has Ryan's romcom DNA; Glen Powell should be forced to register his charisma as a deadly weapon. Lana Condor and Noah Centineo aren't quite on that playing field, but both of them are likable presences. Condor projects gentle thoughtfulness throughout the film, which is as difficult a note to pull off in a teen romcom as I can imagine. I'd have to see more Centineo to know, but at the very least he has the magnetism to make me feel like he could realistically downshift into television instead of unreasonably going the opposite direction (talkin' to you, Patrick Dempsey). To All the Boys surrounds Condor and Centineo with the right mixture of faces (Israel Broussard without his Twitter account, Anna Cathcart with the glasses) even if those faces don't have much acting in them. They do better with goofy earnestness (John Corbett and Madeleine Arthur, who both appear to be totally loony and who are probably my favorite parts of the movie); Set It Up filled out its supporting cast with bigger names, but the point stands that a romcom is frequently as good as its foils.
To All the Boys is generally an enjoyable romantic comedy, but it doesn't always help itself; every now and then it feels like it the new kid at school who has to do something ridiculous just to make himself known to his peers. The less sympathetic version is the kid who comments on some Phil Collins YouTube video and says, "This is real music and my generation's taste is trash." Consider the movie's invocation of John Hughes, which it seems like every romantic comedy aimed at teenagers must reference to show that it's serious enough. (Aside from the fact that John Hughes movies are, uh, not actually good, it's not something you'd see in any other genre. The other neo-noirs don't fall over themselves to make sure we watch scenes from Chinatown any more than war movies reference All Quiet on the Western Front.) It leans into its five letters with the same kind of gusto that The Hunger Games talked up its twelve districts offering tributes, making the number mysteriously imbued even as it goes on to totally ignore two of the five letters entirely. A badly contrived trip away from home and an inevitable retro cafe draw us out of the movie. Choices like that cafe, where one orders milkshakes or plays "Everybody Wants to Rule the World," speak to the movie's deep skepticism of the present day. It is surely laudable that it was harder for someone to film you kissing back in the '80s, but the movie's nostalgia for a decade when the majority of the cast members weren't even alive is a puzzling distraction that the film is not engrossing enough to afford. What's new in the movie is long overdue, and quite welcome: think Lara Jean's biracial family, or the movie's clear statements about the positivity and necessity of consent.
What got me most about the movie, though, is also one of its strangest elements, and that's Peter (Centineo). Peter Kavinsky is the most emotionally well-adjusted high school boy I think I've ever seen in any context anywhere: movies, books, television, my life as a teenager, my life as a teacher, you name it. Aside from a single flaw—he does not speak up quickly enough for Lara Jean when a video hits Instagram which makes it look like they had sex in a hot tub—he is the height of maturity for men ten years older. When he is called out in a hallway to speak up for Lara Jean's virginity, he does so with a combination of lax bro threats and chivalrous Darcy interventionism. (One wonders why the movie does not work harder to deal with this subplot, which happens so rapidly that I barely understood it was a problem before Peter has to go full Dimmesdale at school. The movie is not close to two hours, and surely could have stood up to a little more turmoil.) He uses his experience from his parents' divorce to speak empathetically to Lara Jean without pretending that he understands what it's like to have lost a parent to death. He recognizes that his ex-girlfriend, Gen (Emilija Baranac), still has her hooks in him, and he is honest with Lara Jean that he is not entirely over the girl he'd been dating before her; that Lara Jean doesn't have the imagination to think that Peter might have accidentally left some hooks in Gen is another one of this movie's minor but vexing problems. He makes himself beloved of Lara Jean's family through a mixture of charm, politeness, and, for Kitty (Cathcart), old-fashioned taxi service. He goes across town to buy a yogurt drink that Lara Jean likes as a gesture. Most incredibly, he realizes that he and Lara Jean should be each other's phone backgrounds before they go into a party as a pretend-couple; there isn't a high school boy in the world who's planned deception out so neatly. On top of all that, he is broad-shouldered, handsome, and sturdy in the way that most eighteen-year-olds can't pretend to be. This romance begins with Lara Jean wearing a red dress in a field (presumably about to recreate the "Wuthering Heights" video), imagining a lover from a different era. The film more or less comes to advance a different age, as it were; what makes Peter the right guy for Lara Jean is that he's about the same age as her dad.